Swept Away at the Beach Sweeps 25! Symposium...
On March 13th, COA hosted the first Beach Sweep Symposium Against Beach Litter at Brookdale Community College. Over one hundred attendees braved the extreme weather conditions of the nor'easter to celebrate and learn about 25 years worth of Beach Sweeps data. The Symposium highlighted a generation of Beach Sweeps, citizen action, steps needed for naturally clean beaches, and newly released information about the plastic pollution in the North Atlantic. Most importantly, the Symposium celebrated a generation of Beach Sweeps, Beach Captains, and Beach Sweepers. The success of the Beach Sweeps program would not be possible without our dedicated and committed Beach Captains and volunteers.
Symposium speakers included scientists, elected officials, businesses and citizens who have been active in the Beach Sweep program. COA's staff scientist Heather Saffert Ph.D. addressed the continued trend of plastics in the marine environment. "Recent studies show about 80% of the ocean trash is plastic - which is increasing across the globe," commented Saffert.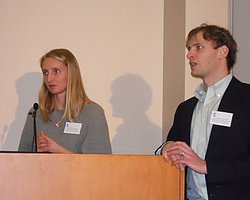 COA was honored to have SEA Education Association scientists Giora Proskurowski Ph.D. and Skye Moret- Ferguson speak to their key findings from 22 years of data that SEA has been collecting from the North Atlantic. Many have heard about the Great Pacific Garbage Patch, but few realize that there is a similar gyre in the Atlantic Ocean. Garbage patches are formed gradually when marine debris, mostly plastic, collects in locations based on winds and currents.
The Symposium's keynote address was given by U.S. Representative Frank Pallone who spoke about how clean beaches and waterways are essential for our economy, our health, and our environment. "Protecting and preserving the Jersey Shore and the ocean waters is an economic issue as well as an environmental issue. The activities that evolve around the Shore, such as fishing, boating, swimming and tourism, are key to the state's economy and provide many jobs" commented Pallone. Congressman Pallone praised the Beach Sweeps data and emphasized the importance of having facts to fight for environmental protection.
An afternoon panel featured NJ State Senators Barbara Buono (D-18) and Sean Kean (R-11). Senator Buono highlighted her proposed bill (S669) to ban smoking in public parks and beaches. Senator Kean spoke about his opposition to liquefied natural gas (LNG) import facilities off the coast of NJ/NY and the importance of litter enforcement. Senator Kean will also be introducing a bill that would establish a 1-week litter enforcement campaign once per year in New Jersey. COA applauds both Senator Buono and Senator Kean for their leadership on pollution prevention and other coastal issues.
John Weber Surfrider Foundation's East Coast Regional Manager addressed the need for corporations to take responsibility for their litter-generating products. Weber questioned why municipalities and tax-payers are forced to pay for the disposal of products while corporations that make substantial profits off the product do not have to foot a dime. Weber offered valuable information about the steps that other countries are taking to hold corporations accountable for their production of disposable packaging.
Finally, during the concurrent breakout sessions, participants had the opportunity to learn about specific pollution prevention actions, such as how to advocate for a plastic bag ban in their community, integrate a recycling program in their local school, or have fun with Beach Sweeps data through an educational activity. The afternoon sessions featured informative topics, including: funding sources for Sweeps and beyond, Beach Sweep educational models, how-to campaigns, and recycling problem plastics.
COA thanks all the Symposium speakers who made the day such a great success! Speakers included:
Kari Martin, Long time Beach Sweep Coordinator
Anita Zalom, Dedicated Beach Captain
Special thanks to Brookdale Community College and Lisa Bagwell for the display of her amazing art made from New Jersey beach litter.