Waves of fun at the 2021 COA Surf Open!
Robert Siliato Photography
Thank you for joining us to support all the awesome contestants at the 2021 COA Surf Open, which was held at Seven Presidents Oceanfront Park in Long Branch, NJ on Sunday, September 26.
The contest ran from 8:00AM to approximately 6PM with an award ceremony immediately following on the beach.
Thank you so much to our 2021 Sponsors
---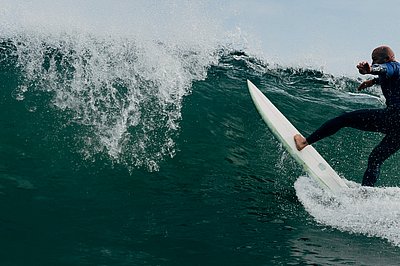 On Sunday, September 26, 2021, Clean Ocean Action's 4th Annual Surf Open contest, took place at Seven Presidents Oceanfront Park in Long Branch, NJ, with the largest turnout of over 100 surfers. Amid sunshine, light offshore winds and exciting waves, surfers in nine divisions and spectators enjoyed a great day! Surfers ranging from 6-year-old groms to pros, turned-out to celebrate one of the ocean's greatest gifts – clean glassy waves – and support a clean ocean. The COA Open raised over $25,000 this year due to overwhelming support from the sponsors, contestants, and supporters. Volunteers helped all day – from setup and breakdown, both in the dark, to non-stop judging and heat rotation.
Some of the best surfers of all ages in NJ and NY, including Pros Paul Fransisco, Mike Gleason, Pat Parenty, Jon Smyth, and Balaram Stack awed spectators throughout the day. Jon Smyth, 1st place winner in the Men's 18 & Up division for the second year, also donated his prize money to COA.
"Sunday, September 26, was a remarkable day! We were gifted with great waves, weather, and surfing at this year's COA Open, which importantly, raises awareness about protecting our most crucial natural resource, the ocean. Splashing fish joined the lineup with the sun was shining brightly all day. The success of the event is due to the help of our committee members, volunteers, and sponsors who showed inspirational support of the local surf community, the event, and Clean Ocean Action. It is a testament to how special the ocean environment is and how we all need to work to protect it. We're already looking forward to next year,"exclaimed Tyler Thompson, Contest Director.
Throughout the day, surfers and spectators enjoyed great weather and waves while appreciating complimentary drinks from Coffee Surf Co, Ugly Seltzer, and Melonhead. Fanagel the Bagel and Jersey Mikes provided breakfast and lunch for the many volunteers who assisted with registration, judging, organization, and breakdown. Special thanks to the Rumson Fair Haven High School Surf Team for loaning contest equipment.
Each contestant received a T-shirt printed and donated by TAK Waterman of Long Branch. Prizes were given to the top 5 winners in each of the nine divisions. The prizes were generously donated by Dakine, Farmacy+Co, Greenlines, Katin, Low Tides, Nixon, Smith, The Traveling Mermaid, Vans, Volcom, and Volte Wetsuits.
COA is most grateful to the remarkable community-wide collaboration that made the event possible beginning with the outstanding committee who brought it all together: Tyler Thompson, Contest Director; Mike Gleason and Nick Spadavecchia of TAK Waterman Surf n Fish in Long Branch; Kyle Hopfensperger of 2nd Jetty Seafood in Sea Bright; Luke McCann of Absolute Home Mortgage Co; Rick Jones, Beach Techno Wizard, Joe Schluter, and extended Thompson Family who have been dedicated to COA since 1984. Special thank you to Head Judge Tom Eadon and judges Tyler Adams, Max Berry, Anthony Giglio, Kelly Krystopowicz, Derf McTighe, Brian Parnagian, Brett Thompson, Mark Thompson, and Steve Walker.
The Monmouth County Freeholders and especially the Monmouth County Parks and Recreation Commission, have COA's sincere and beachy gratitude for allowing the event to take place.
Sponsors are the backbone of this event, producing the Surf Open and supporting COA's efforts to protect the ocean. Sincere thanks to these sponsors:
Double Overhead: Absolute Home Mortgage Corp, Anonymous, 2nd Jetty Seafood and TAK Waterman
Overhead: Hearthly Organic, Hickman Contracting, MCM Electric, Red Rabbit Aesthetics, Warshauer Electric Supply, and World Subaru
Ground Swell: Coffee Surf Co., Melonhead, Messina & Mimnaugh Wealth Management Group, Offshore Coffee Roasters, Parnagian Architects, Salty Dog Watersports, Skytop Landscaping, Suneagles Golf Course, S. W. Decorators, and Wells Painting.
Shore Break: The Traveling Mermaid and Summa Love Surf Camp
Waves of Thanks to our 2021 Sponsors!
2021 COA Open Surf Contest Division Winners
OPEN LONGBOARD:
1. MIKE MELEGA
2. SCOTT THOMPSON
3. TOMMY GEORGE
4. DREW MCCOY
5. CHASE JAY ROGERS
6. DANE CASEY
PRO:
1. BALARAM STACK- DONATED PRIZE MONEY TO COA
2. MIKE GLEASON
3. PAUL FRANCISCO
4. PAT PARENTY
5. JON SMYTH
MENS 18 AND UP:
1. JON SMYTH: DONATED PRIZE MONEY TO COA
2. PAT PARENTY
3. JAKE KUIPERS
4. GREG DEGERSDORFF
WOMEN 18 AND UP:
1. ARIA DILIBERTO
2. DANIELLE COTE
LEGENDS:
1. RYAN FENDER
2. JACK MURPHY
3. SCOTT THOMPSON
4. GARY FINNEGAN
5. GERRY MATTHEWS
JR MEN 13-17
1. DECLAN FITZGERALD
2. RYAN WIRIN
3. NICOLAS GARDELLA
4. CHASE JAY ROGERS
5. SEAN DUNN
6. BRAYDEN TAYLOR
JR WOMEN 13-17
1. AUDREY IGLAY
2. CARLY COBLE
3. SETON IGLAY
4. SKYLAR OKEEFE
GROM GIRLS 12 AND UNDER
1. MARLEY FENDER-MAROTTA
2. VIVIAN ANDERSON
3. AMANDA FLAHERTY
4. KEIRA SOLEAU
5. PRESLIE FENDER-MAROTTA
6. DYLAN KOZINN
GROM BOYS 12 AND UNDER
1. CARTER DOORLEY
2. JAMES BROOKS
3. KAI TAYLOR
4. TIMMY MCCOOEY
5. DASHIELL COUNTS
6. KEVIN FLAHERTY