Make Waves For a Clean Ocean at the 2021 COA Surf Open!
Ryan Struck Photography
Thank you for joining us to support all the awesome contestants at the 2021 COA Surf Open, which was held at Seven Presidents Oceanfront Park in Long Branch, NJ on SUNDAY, SEPTEMBER 26th.
The contest ran from 8:00AM to approximately 6PM with an award ceremony immediately following on the beach.
Thank you so much to our 2021 Sponsors
---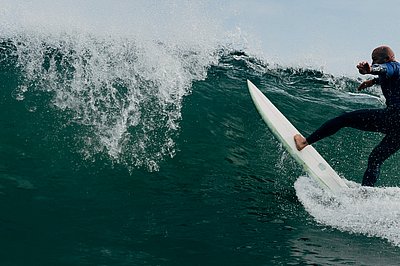 Clean, epic waves were enjoyed by The COA Open surf contest competitors and spectators on October 24, 2020 at Seven Presidents Oceanfront Park in Long Branch, NJ! Thank you to all sponsors, in kind sponsors, contestants, volunteers, spectators, and supporters for their donations and assistance in helping make this 3rd annual competition a success! The funds raised will help support COA's important work of ocean protection to ensure healthy water for marine life to thrive in and people to enjoy! Read more
Read more about the 2020 COA Surf Open
View the 2020 Surf Contest Results by Division
Waves of Thanks to Our 2020 Sponsors
(You could be here for 2021! Email projects@cleanoceanaction.org if you would like to be a sponsor.)
Double Overhead Sponsor: Advisors Mortgage in Ocean Township; Overhead Sponsors: 2nd Jetty Seafood, Petrillo's Protection Group, Red Rabbit Aesthetics, SkyTop Landscaping, World Subaru; Ground Swell Sponsors: Hickman Contracting, LGInsurance, MCM Electric, Messina & Mimnaugh Wells Fargo, Summa Love Surf Camp, Sun Eagle Golf Course, The Gallery Residential Brokerage, Warshauer Electric Supply, and Wells Painting. In Kind Sponsors: BLDG Active, CarvinArt, Coffee Surf Co, Greenlines, Hearthly Organic, JDR Home Repair & Maintenance, TAK Waterman, TE Shapes, Ugly Seltzer, Volcom, and Volte Wetsuits
Waves of Thanks to Our 2020 Photographers
View the images of photographers Ryan Struck, Tim Torchia, Michael McKenna, Ken Robinson, Rob Siliato, and Todd Thompson here
View the images from photographer Tom Zapcic here.
*A portion of proceeds from each download will benefit COA.