Environmental Action & Education Programs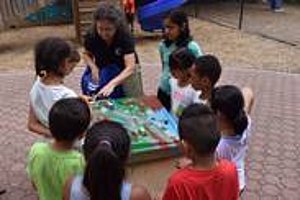 Since 1984, Clean Ocean Action uses research, public education and citizen action to improve the quality of the waters off the New Jersey/New York coast. Our belief is that people will take action to protect things that they love and understand. Together, we must act quickly and effectively to keep our ocean clean.
To help achieve this, Clean Ocean Action developed many different education programs and resources to engage citizens in the protection of the ocean. From presentations to interactive activities, our programs help people understand the connections between our habits and actions, and the heath of our environment. To get started, follow the links below, or in the purple tab list in the left column for more information on these unique and interactive programs, activities, and lessons.
Click here for a printable brochure that outlines Clean Ocean Action's education programs.
---
GOAL: Clean Ocean Action's Student Environmental Advocates and Leaders (SEAL) program aims to empower students to become mindful and resourceful leaders, with a focus on local, current environmental issues.
The SEAL program, which was funded generously by Impact 100 Jersey Coast as their first environmental grant, offers eligible high school students a unique leadership learning experience focused on local environmental issues. High school students from the following schools are currently eligible:
Asbury Park High School, Raritan High School (Hazlet), Henry Hudson Regional High School, Keansburg High School, Keyport High School, Long Branch High School, Neptune High School, Monmouth Regional High School, Middletown High School North, Red Bank Regional High School, Ocean Township High School
---

Open to the Public
Cost: COA generally asks for a $100 donation for a 50 minute presentation
For more information about the Educational Presentations, please click on above link. To request a presentation, please click here.
Clean Ocean Action offers informative marine environmental presentations to teach students of all ages and backgrounds about the issues surrounding ocean pollution. All presentations are tailored to the age and size of the audience. For some descriptions of presentations available, click here. Please inquire about a presentation by completing the aforementioned form, or call 732-872-0111.
---
Open to Middle School Students (Grades 5-8; Public & Private)
Cost: Free; application required
For more information about the Student Summit, please click on above link.
The Student Summit is designed to provide NJ middle-school students an opportunity to experience hands-on, marine environmental education at the Jersey Shore. Some activities are:
Horseshoe Crab Discovery & Handling

Seashell Identification

Invertebrate Identification

Project Terrapin

Activities to identify and propose solutions for non-point source pollution

Climate change and sea level rise.
The Spring Student Summit is for middle schools of these central and northern NJ counties: Sussex, Warren, Hunterdon, Mercer, Monmouth, Middlesex, Somerset, Union, Essex, Hudson, Bergen, Passaic and Morris.
The Fall Student Summit is for middle schools of these southern NJ counties: Ocean, Burlington, Camden, Gloucester, Salem, Cumberland, Cape May and Atlantic.
---
Do you love COA? Are you a teacher or are you comfortable doing trained presentations in front of groups? If so, then the Clean Ocean Action Education Ambassador program is for you! Educators can assist Clean Ocean Action's education program by conducting presentations about ocean pollution issues to school and community groups across the state of New Jersey.
To learn more about the program responsibilities, time requirements, and compensation, please review Education Ambassador Job Description.
If interested, fill out an application and get started teaching!
For more information, please contact Kari Martin at 732-872-0111.
---