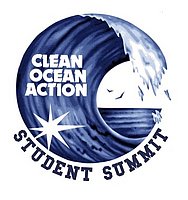 Student Summit Application Process
NOW ACCEPTING APPLICATIONS FOR THE FOLLOWING STUDENT SUMIMTS:
How To Apply: 3 Easy Steps
STEP 1: Agree to Terms of Participation (ToP)

Carefully review the Terms of Participation, found within the Student Summit application. These terms are essential to ensuring all participants have a productive day.
Please return an initialed copy with your completed application and deposit.

STEP 2: Complete Application

Please read the entire application and fill out completely.
You may call 732-872-0111 to request that the application is emailed to you.

STEP 3: Send ToP, Application, and $100 Refundable Deposit Check to...
Clean Ocean Action
Student Summit
49 Avenel Blvd.
Long Branch, NJ 07740
---
ACCEPTANCE
Your application will be acknowledged upon receipt. You will be advised about acceptance in the program as soon as possible after the deadline (September 21st for Cape May Student Summit, September 28th for Island Beach State Park).
In the meantime, we suggest you make bus reservations and arrangements and receive the necessary school permission or approval.
COSTS
The program and all materials are free. To ensure a commitment from your school, a refundable deposit of $100 is required with your application. The deposit will be returned to you upon submission of the Post-Summit teacher and student evaluation forms. The deposit will be cashed and used as a donation toward the Student Summit program if the post-Summit teacher and student evaluation forms are not returned by the deadline as stated in the application. Transportation and lunch must be provided by participants.
DRESS REQUIREMENTS
Appropriate outerwear is mandatory. Coastal locations are coldier and windyier than you school location. Schools much advise the students to dress according to the weather, bring additional layers of clothes, and wear sneakers or hiking shoes. Clean Ocean Action reserves the right to exclude or limit participation to anyone whose dress is inappropriate. In the case of extreme and dangerous weather, the Student Summit will be cancelled. Otherwise the event is held outdoors, rain or shine.
COVID PLAN
On the date of the Student Summit, participants will be required to comply with all applicable COVID measures recommended by the CDC and all such requirements imposed by the State of NJ.