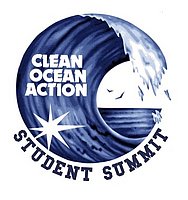 Virtual Student Summits:
Free Program for Middle Schools to Assign In-Addition to or In-Place of In-Person Summit
In an effort to offer all NJ students a fun marine-based learning experience regardless of whether they are able to attend the in-person summit, Clean Ocean Action offers a Virtual Student Summit during the Student Summit months, May and October! The Virtual Fall Student Summit is offered to interested southern NJ middle schools (grades 5-8) in October and the Virtual Spring Student Summit is offered to northern NJ middle schools (grades 5-8) during May.
The Virtual Student Summit, a Prezi presentation, is broken up into two parts main parts: Part 1 - Ecological Significance of the NY/NJ Coast and Part 2 - Ocean Pollution and Solutions. Each of the two parts is assigned a Google Form for student participation and takes about 30 minutes to complete.
Students are encouraged to answer the Virtual Summit's questions on the Google Form as they click through the Student Summit. These two sections are best assigned over the span of two days, but how and when teachers would like to assign the materials is completely up to their discretion.
Following the two main parts is an optional section populated with activities for students to explore further! This section includes videos, links, coloring pages, home experiments, and much more. Teachers can assign a few or several of these activities throughout the remainder of the week! There is also an optional More About COA part of the summit if students would like to learn more information on our organization.
If interested in receiving this virtual resource, please fill out this brief Google Form and select the Summit to which your school is eligible:
Virtual Spring Student Summit (May 2023):
Eligible Counties: Sussex, Warren, Hunterdon, Mercer, Monmouth, Middlesex, Somerset, Union, Essex, Hudson, Bergen, Passaic and Morris.
Virtual Fall Student Summit (October 2023):
Eligible Counties: Atlantic, Burlington, Camden, and Ocean, Cape May, Cumberland, Gloucester, and Salem