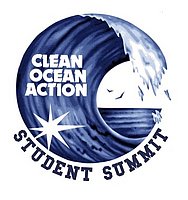 Student Summit Educator:
Volunteer Job Description
Job Title:
Field Trip Leader for Clean Ocean Action's Student Summit
Supervisor:
Goals:
Lead a group of 20-30 middle school students on a hands-on educational field trip and activity during the Student Summit. Introduce students to ecological concepts and the connections between people and their environment.
Major Responsibilities:
Lead a group of students on two 1½ hour field trips during the Student Summit
Instruct students in a topic agreed on by COA and the volunteer (topic of field trip may be tailored to the volunteer's area of expertise or skills)
Foster the learning process by engaging students in the field trip activity
Time Commitments:
4 hours during the Student Summit (9:00am-1:00pm).
1-2 hours of preparation time for the field trip activity.
1-2 hours to meet with COA's Education Coordinator prior to the day of the Summit for review
Qualifications:
Knowledge of field trip topic and related environmental issues
Physical ability to lead students through the outdoor coastal environment
Communication skills and ability to relay concepts to middle-school aged children
Enthusiasm for the environment
Training & Preparations:
Previous teaching experience is preferred but not required. Schedules, instructions, some equipment and materials and other necessary assistance will be provided by Clean Ocean Action.
Date & Location:
Sandy Hook Student Summit: Gateway National Recreation Area – Sandy Hook (Parking Lot E)
Staten Island Student Summit: Gateway National Recreation Area - Great Kills Park
Cape May Student Summit: Nature Center of Cape May
Island Beach State Park Student Summit: Ocean Bathing Area #1
Benefits to the Volunteer:
Participate in the learning process of tomorrow's leaders
Make a difference in your community
Meet people who share goal to improve and protect the environment
Lunch on us!